The best adjustable safety razor like the Merkur Futur lets you increase and decrease blade exposure for a softer or more aggressive shave.
Artisan Shaving is independent and reader-supported. We may earn a commission from these links.
Top Picks:
This works by increasing or decresaing the amount of blade that protrudes beyond the head – the blade gap – and a natural by-product is a very slight change in the angle of the blade.
That is pretty incredible technology for what is otherwise a relatively simple design of safety razors which goes back over 100 years.
Nevertheless with more engineering and moving parts like this it is important to find the best adjustable safety razor that is going to stand the test of time when faced with water and shaving soap.
For instance, how much an adjustable safety razor costs can vary from under $20 for a Chinese model (or slightly more for the branded versions from the same factory that we shan't name) up to well over $50 for more premium brands.
The Best Adjustable Safety Razor
The Merkur Futur came top in our best safety razor review but it's adjustable settings means it also wins best adjustable safety razor.
This space age design from the 1980s is smooth and rounded, which can make it slippery when wet. The blades are adjusted by twisting the handle for 6 settings. One more than the Merkur Progress. So at the highest setting, it is more aggressive.
That said, the Merkur Futur is a great safety razor for beginners. Whether you're experienced or not, always start slow and on the softest setting before working your way up. On an an aggressive setting you probably don't need to bother shaving against the grain so perhaps stick to just two passes. Unfortunately the settings do lean more towards aggressive than gentle.
The head is quite bulky at 90 grams which can make getting under the nose and other intricate areas a bit tricky. The Merkur Futur also doesn't use any of the easy blade loading mechanisms of other brands. Instead the top of the head pops off which can be fiddly and potentially dangerous if you're not careful. There is also concern about the strength of the central screw as it seems to be a cheaper pot metal.
Read our full Merkur Futur review here.
The Merkur Progress essentially resembles a classic safety razor like Merkur's popular 34C, which is hardly surprising as it started life in the 1950s like Gilette's Fat Boy. However, the progress features a small dial on the bottom with five settings.
Like the Merkur 34C the handle is very short and it doesn't offer much in the way of grip. It's also easy to see why many people don't like the big beige plastic dial on the bottom compared to the Futur's integrated design. That said it is a far more traditional safety razor, offers very reliable service and is slightly cheaper than the Futur too.
If you can't make up your mind between the two Merkur adjustable safety razors then we've compiled a detailed Merkur Progress vs Futur comparison here.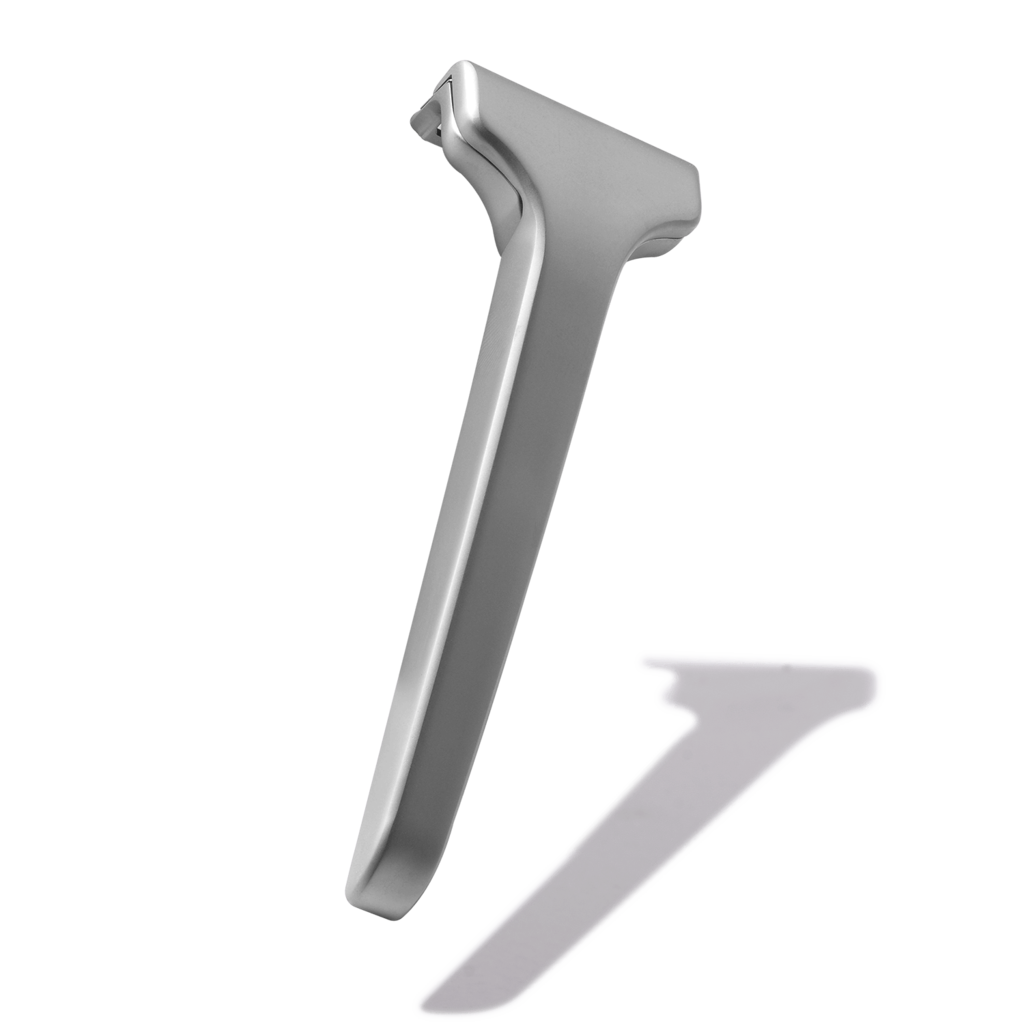 Rather like the Rockwell 6C we'll cover later, the Supply razor (review) comes with three different base plates so you can select your level of aggression.
But you'll notice the Supply razor is not like any other adjustable safety razors on this list.
That's because it is an injector razor, using single edge blades instead of double edge safety razor blades. But don't let that scare you – injector blades are readily available and come in a handy dispenser so you really do inject them into the razor head without risking your hands.
Supply is a thoroughly modern startup with a precisely made razor molded using aerospace technology. The result is a razor that is heavy, comfortable to hold and offers a very close and satisfying shave.
Of course there's more to the best adjustable safety razor than Merkur. Parker introduced the Parker Variant in 2016 as an excellent solution to many of the problems presented by the Merkur Futur and progress.
The dial is integrated beautifully into the long, textured handle. Three very simple things that result in a greatly improved adjustable safety razor.
The Variant has 5 numbered settings, 1-5 with 5 being the closest shaving option. Additionally there are half settings so in reality there are 10 settings to choose from. It also has a reassuringly hefty weight at 110 grams.
Parker is certainly an interesting brand with decades of experience that have made it a firm favourite among wet shavers. That's despite their low cost with most of their items made in India. Nevertheless their quality control ensures their reputation continues to last offering good quality for a low price.
Rockwell razors have exploded onto the wet shaving scene since their 2014 Kickstarter offering high quality adjustable safety razors with a lifetime warranty.
A thoroughly modern brand, Rockwell razors shares many of the same values as Artisan Shaving – quality safety razors that save money and save the planet.
Their adjustable safety razors use different base plates in order to change aggressiveness. Each side of the base plate represents a different setting and you are supplied with 3 plates, giving you 6 settings overall.
That's the same as the Merkur Futur but Rockwell are geared more towards softer settings making them a great beginners safety razor, besides the cheaper price.
The use of base plates to adjust the safety razor settings has a few pros and cons. For one thing it is frustrating to have to change the whole head between settings, so most people will find their ideal setting and rarely use the other two blades.
Taking the head apart is always risky, especially with soapy hands mid-shave. Any time you take the blade out requires concentration with any safety razor, so having to work out different plate settings with the other hand seems daunting. Plus you can lose base plates, especially when travelling.
However, the use of base plates does mean that there are no moving parts in this adjustable safety razor besides the screw common to all safety razors. That leaves far less to go wrong as even with these premium brands there is always going to a small defect rate which, although frequently sorted with an apology from customer service, is needless hassle.
Longer term the chances of failure with a Rockwell adjustable is the same as a non-adjustable: minimal. And on top of all that Rockwell have their amazing lifetime warranty.
If you're not convinced by the alloy Rockwell 6C try the stainless steel Rockwell 6S (review).
After a long crowdfund and development, Rockwell have also brought out the Rockwell Model T. It's perhaps their biggest innovation to date.
The Model T very much resembles the classic adjustable safety razors of the 1960s like the Gillette Fatboy and Slim.
It achieves that through a dial integrated into the knurled handle below the head. That ensures a shaving implement that is beautiful as well as easy to use.
The head itself is a butterfly or twist-to-open style that opens up for blade replacement.
As a new release with a large Kickstarter following the Model T tends to sell out very quickly so grab it if you can.
Vikings Blade Adjustable Safety Razors
Vikings Blade offer two adjustable safety razors – the Crusader and the Emperor.
Vikings Blade encounters a lot of criticism for manufacturing its razors in Asia. They insist that not long after they enlisted the help of Chinese razor manufacturer Bailie with manufacturing their Chieftain butterfly razor the factory started producing almost identical designs that white-labellers slapped their logos on and sold as a direct rival to the Chieftain. Vikings Blade insist that their own manufacturing is closely monitored to high standards and their handling of this negative PR is testament to their concern and quality control.
Years later this popular razor brand is now producing some fierce-looking adjustable safety razors like the Crusader and Emperor.
The Meiji Edition of the Vikings Blade Emperor razor is aptly named after Emperor Meiji who ruled Japan from 1867 until 1912 and brought Japan out of its feudal past and into the modern industrial age.
It clearly feels like razor built to last a lifetime. It is precise yet rugged. The calibration of the adjustment knob is exact and moves with a firm smoothness. It is a shorter handled razor than the original Vikings Blade Emperor razor and yet weighs a mighty 134 grams/4.72 ounces.
The Emperor also features a rare feature of bending the safety razor blade to achieve a sharper cutting angle.
The overall length is 95 mm (3.71 inches) making it about the same length as a vintage Gillette Super Speed razor, often hailed as the ideal length. Plus the grip is fantastic with a finer texture applied on top of the bigger grooves in the handle.
The Crusader is much longer and sleeker than the Emperor but remains beautifully balanced and impeccably built. At 109 grams it is almost a third lighter and longer at 117mm. However it shares the same smooth adjustment settings. Keep in mind that as it is rose gold plated this is designed to weather and fade with age.
One major perk is two comb settings so one side is more aggressive than the other – a bit like the Rockwell 6C. That means you have a huge variety of settings given the two sides and the dial on the handle so you can quickly learn your favourites for areas like a sensitive neck or a stubborn chin. And that's before you play around with different safety razor blades.
A Modern Fad?
However, adjustable safety razors have been around a long time. The Gillette 195 Adjustable Safety Razor "Fatboy" was made for three and a half years between 1958 and 1962 and also featured a butterfly safety razor head. The original retail list price was $1.95 and this is where the 195 comes from in its official name.
Other classic razor brands like Merkur and Parker have led pioneering designs in adjustable razors from Solingen and Sheffield respectively – both global epicentres of high quality blade production. Then there are newcomers like Rockwell razors that bring a fresh take on this niche of safety razors.