The Merkur Futur is a very popular razor with a premium price tag and as such it is no surprise that it has spawned a number of cheaper imitations.
One of the most popular Merkur Futur clones is the Qshave adjustable razor which is available at a tiny fraction of the cost of a real Merkur Futur.
What's more, Qshave has built itself up to be quite a popular brand. Is Qshave a best kept secret of adjustable safety razors?
Many wet shavers have actually found the Qshave comparable with the performance of the Futur.
Afterall, we often have to remind ourselves that the great thing about safety razors is they are quite difficult to get wrong, which is why some shavers happily use a cheap Weishi razor one day and a premium Feather AS-D2 the next.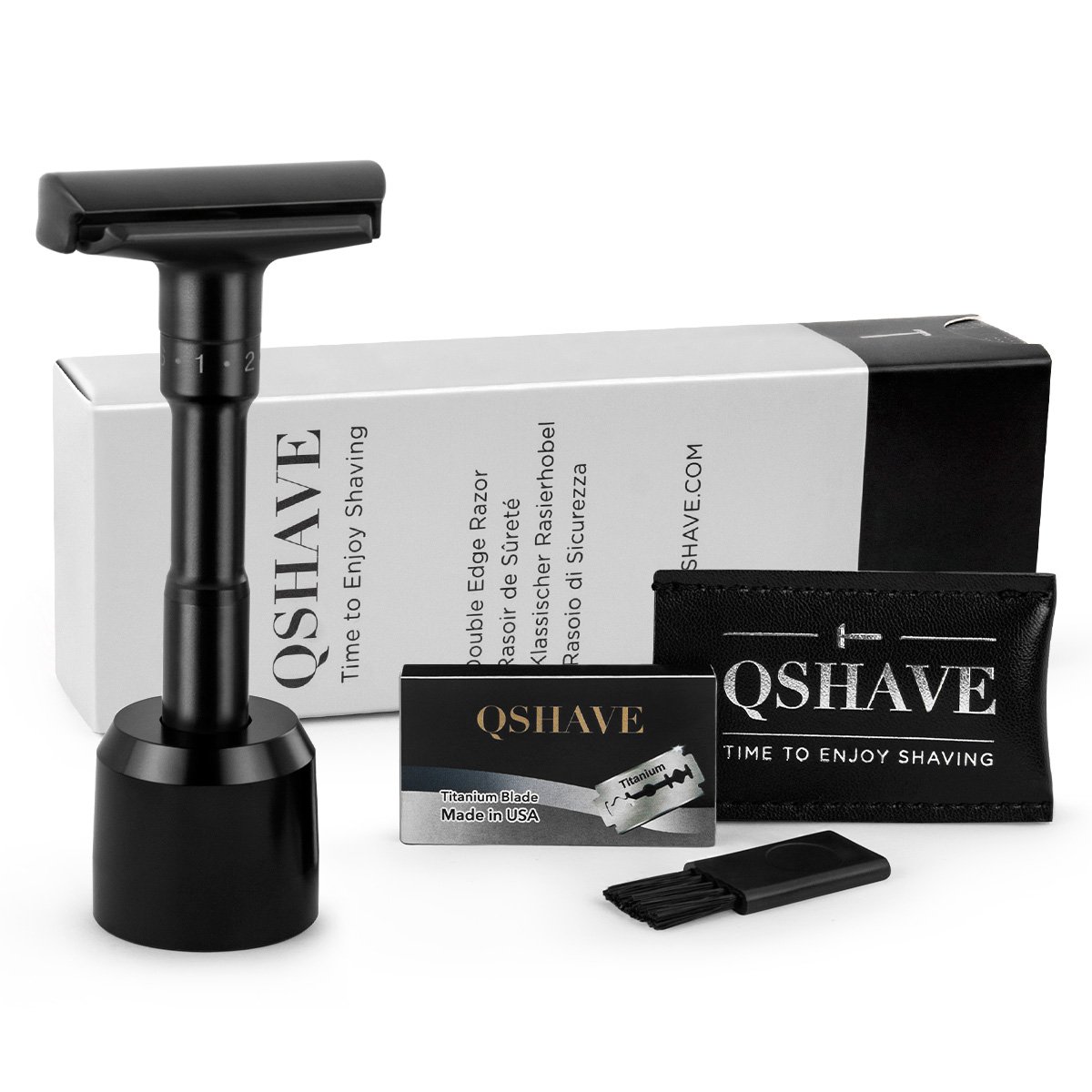 Just keep in mind that the Qshave is really cheap. There's a good chance that in a blind test the weight and build quality of the German Merkur should stand out.
It is also likely that over time the differences will prove even clearer when longevity is taken into account.
But the Futur is an expensive razor at two to three times the price of most Merkur safety razors like the 34c and 23c. The Qshave is more like half the price of one of those.
Ming Shi 2000s – First Merkur Futur Clone?
It can get very difficult to trace the origin of safety razors that don't come from a named manufacturer like Merkur, Feather or Edwin Jagger.
In fact Vikings Blade when developing their Chieftain razor was accused of branding up a generic Chinese-made razor that had adopted a similar design to their patented Chieftain.
The Van Der Hagen safety razor and Microtouch One are both popular razors we suspect have been white labelled in this way.
Qshave appers to be a white label brand too, although we cannot say for sure. The Merkur Futur clone appears to be a very popular design with replicas all over wholesale sourcing sites like Alibaba.
There seems to be consensus among shaving circles that – notice the irony here – the "original" Merkur Futur clone is the Ming Shi 2000s and this is what Qshave sell as the Qshave adjustable razor. Who can say for sure. But the Ming Shi 2000s also offers a great shave at an unbelievable price.
As the popular Canadian razor retailer Maggard says "While I don't have a lot of information about this razor- what I can say is that it's been receiving great reviews through the forums."
At Artisan Shaving we frequently note that we don't really care about cheap safety razors – whether direct from the factory or rebranded by a reseller – as long as you don't pay over the odds for that label.
Of course a good label can give you a better level of trust as a razor brand with a reputation rather than an unknown factory on Aliexpress. That's exactly what Qshave is – whether its a Ming Shi or not – it doesn't offer an inflated price and has established a good record.
Reselling any product well isn't easy – especially safety razors that have a very experienced following who are hard to fool. Qshave has built its brand around its products very carefully over a number of years – far from a reseller flipping cheap razors to make a quick buck with no thought for quality control, packaging and marketing.