If you're looking for the best safety razors for beginners then you have already overcome the bold but wise step of abandoning expensive plastic cartridges for a much better quality shave.
Safety razors are better for you wallet, the planet and – contrary to popular misconception – they are great for sensitive skin. One double edge blade right against the skin is both more effective and more gentle than multiples in a cartridge.
A man by the name of King C. Gillette started a real revolution in wet shaving by making improvements on some early safety razors designed in 1870. By 1901, his pilot razors were already in production and sold for $5, which amounts to about $140 in today's money.
Today though you can get a safety razor for under $10 or well over $100, so what's the best to start with and perfect your shaving technique?
The Best Safety Razors For Beginners
Now that you know the safety razor basics, let's focus on our top five candidates. The safety razors listed below are not so aggressive and at the same time, they easily follow the contours of your face for the perfect wet shaving.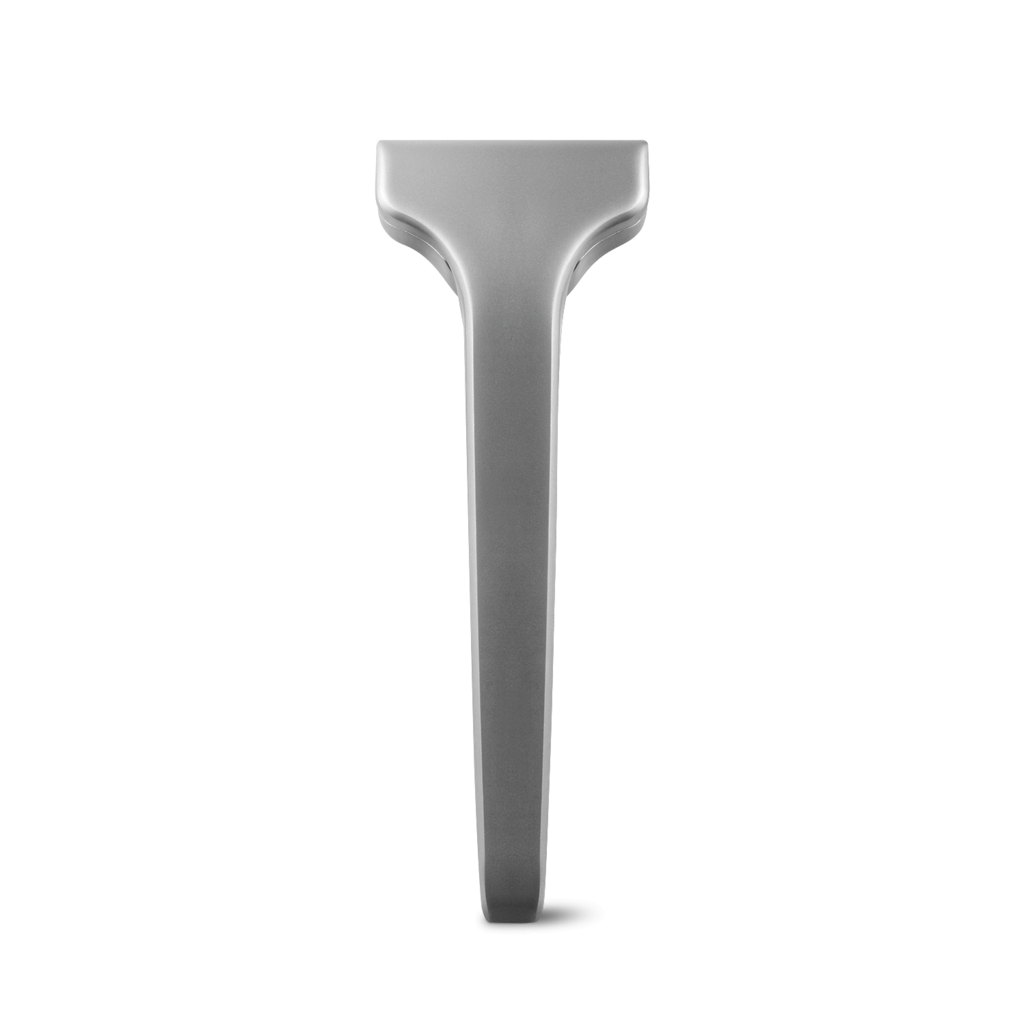 The Supply razor (review) comes with three different base plates so you can select your level of aggression. Plus its large, smooth handle makes it wonderfully comfortable and satisfying to use.
But you'll notice the Supply razor is not like any other safety razors on this list.
That's because it is an injector razor, using single edge blades instead of double edge safety razor blades. But don't let that scare you – injector blades are readily available and come in a handy dispenser so you really do inject them into the razor head without risking your hands.
Supply is a thoroughly modern startup with a precisely made razor molded using aerospace technology. The result is a razor that is heavy, comfortable to hold and offers a very close and satisfying shave.
Merkur Classic MK 33 is a two-piece, closed-comb double edge safety razor. With a handle length of three inches, this model provides a secure grip and a decent level of control. However, the closed-comb design of the shaving head means that you'll have to unscrew it a little bit for a proper rinse.
Like all other safety razors by Merkur, the Classic MK 34 version is compatible with all double edge blades on the market. The total weight of this safety razor is 3.33 inches, but the handle is just 3-inch long. It may be too short for most first-time wet shavers.
Also, the razor is just under two ounces in weight, which means that it can "over-steer" when passing around the lips and along the jaw. Although many users fall for the classic look of MK 33, others say it's way too fragile, particularly the screw connecting the shaving head to the handle. MK 33's head is made of a zinc alloy that has a low melting point and is incredibly difficult to weld.
Pros:
Fits all blades on the market
Provides a decently-close shave without much effort
The handle's cover provides a good grip
Cons:
MK 33 is light and should be maneuvered with extra care
The material it's made of becomes fragile over time
You have to unscrew the head a bit for a proper rinse
The Merkur 34C probably is DOVO Solingen's best safety razor for beginners. The level of craftsmanship invested in the 34C razor makes this razor a thing of beauty. It is 3.28 inches long. The handle is 3.04 inches long, which makes it just a tiny bit longer than that of MK 33.
This two-piece closed comb razor has got tiny gutters on both sides of the shaving head that greatly facilitate rinsing. The razor's weight is 3.2 ounces, which is a prerequisite for excellent control while shaving some tricky areas of your face.
Like the models above, Merkur 34C delivers a mild shave with just the right amount of aggression to spare you the third pass.
Just a note to beginners: avoid using this razor with the insanely-sharp Feather blades, for the first couple of months at least. It works with all kinds of double edge blades, so you aren't limited in your choice.
Pros
High-quality materials and manufacturing
Gives a close shave with minimum irritation
No need for repeated passes
Cons
The handle length may not be enough for big-handed users
Beginners may struggle with its weight at first
The covering of the handle is not as rough as you may like
This is arguably the best safety razor one can currently buy. Reviewers unanimously agree that this model is suitable for experts and beginners alike. The DE89 is a two-piece safety razor with a short handle and a standard chrome finish. Coming in at 3.3 inches, the handle's length is just enough for newbies.
The weight distribution of this safety razor is such that the it feels perfectly balanced when you start shaving. This means that beginners should worry less about their technique. On the other hand, the closed-comb design means that the beginner's face will be less exposed to the blade, and the whole shave won't feel that aggressive. This minimizes the risk of skin irritation and cuts.
In the start-up package of DE89, there are five double-edged blades. This is a safe razor that fits all standard double-edged blades. Besides, the manufacturer offers a wide variety of blades to match many different beard and skin types.
The company's name is embossed on DE89's handle, but this fact hardly makes up for the lack of proper gnarling. The relatively-short handle may not be suitable for large-handed users. Albeit DE 89 is made of good quality zinc alloy, some reviewers say that their razor's handle broke after accidentally dropping it in the sink.
Weighing in at 2.72 ounces, Edwin Jagger DE89 will probably take more than two passes to give you a baby-smooth face. However, its medium weight is perfect for wet shavers that are still learning the ropes.
This model's biggest setback is probably that after about two years of consistent shaving, the screw mechanism that connects the handle to the shaving head becomes unstable.
Pros
Good value for your money
Gives a close shave without causing skin irritation.
Good balance between the shaving head and the handle
Cons
Reviewers have reported issues with the screw mechanism
No proper knurling on the handle
The handle may break if dropped in the sink
The Chieftain Junior safety razor is a rather basic and rudimentary version of the Chieftain razor. At first try, it is a bit lighter in the hand than its predecessor. Amazon says this product's shipping weight is 3.2 ounces, which means that the razor itself probably weighs around 2.88 ounces.
Just like the Chieftain, JR is a twist-to-open razor with a closed comb shaving head. The 3.75-inch-long handle has a decent knurling in the form of a series of rectangular blocks.
Even when wet, it provides a fair grip. This is a significant improvement from our first contender, Edwin Jagger DE89, whose handle is pretty smooth.
First-time wet shavers will probably appreciate the fact that the Chieftain JR features a slightly smaller head than the Chieftain, which makes it easier to control.
This razor does not come with any accessories such as a carrying case or a set of blades. However, we recommend the set of 50 Vikings Blade's mild double edge safety razor blades. They provide a closer shave at a reasonable price.
A common flaw in both the Chieftain and the Chieftain JR is that the twist-to-open mechanism may get a bit squeaky over time. The squeak should not bother you, because it does not prevent the mechanism from opening and closing smoothly.
Pros:
Decent knurling on the handle
Good price/quality ratio
Very good balance between weight and length of the handle
Easy to handle
Cons:
The twist-to-open mechanism may get squeaky over time
The handle may be too short for users with really big hands
The blade may sit slightly askew on closing
This three-piece safety razor is another excellent shaving tool for first-time wet shavers. It's got a chrome-plated brass body that doesn't look as sleek as the Jagger's or Merkur's, but it still delivers a safe shave with minimum irritation.
With a handle length of four inches, this is a big double edge safety razor. The handle also has a decently-dotted gnarling. When wet, it still gets a bit slippery. This can be a problem given that this safety razor weighs in at whole three ounces.
The sheer weight of this razor means that you should apply minimum pressure while dragging it along the jaw, down your cheeks, or anywhere else for that matter. You should also be careful not to tighten the head's top to hard on the handle because this will render shaving impossible.
The closed-comb design of this three-piece razor provides some protection from cuts, while at the same time each piece can be rinsed separately for maximum hygiene.
A huge plus of Parker 91R is that it comes with a set of five spare blades. When they get used up, just replace them with any standard safety blades you can find.
Pros
The three-piece design guarantees thorough rinsing
Very solid body
High-quality build
Cons
The head may become loose during shaving
The chrome finish wears off easily
The head's a bit too wide
Are Safety Razors Really Better?
Those who've made the bold decision to migrate from a cartridge or an electric razor to a safety razor should keep in mind the following facts about safety razors.
The Best Care for Your Skin
Some ten years ago, I was in Naples, Italy, on business. I was taking a stroll around the city's historical center when I passed by a barber's shop and decided to get in for a shave.
Sparing the superlatives, I just want to say that the shave was amazingly pleasant and the sensitive skin of my face felt rejuvenated and fresh for days after.
Safety razors come the closest you can get to the performance of a traditional straight-blade razor. If beginners are patient and determined, their results will improve with every shave.
Pocket-friendly Blades
After you buy a safety razor and all essential accessories, you may have the feeling that you've just spent a small fortune. The good news is that after these initial expenses, you'll be spending almost nothing on spare steel blades for years to come.
Safety Razors Are Environmentally-friendly
Compared to electric razors or cartridge razors, double edge safety razors have an insignificant footprint in the environment. They are very cheap to make and one blade typically lasts for just over a month. So safety razor users also have a smaller footprint than the users to the former two shaving options.
The Best Safety Razor for Beginners Buying Guide
What to Look for in a safety razor?
The Handle – it should fit comfortably in your head and you must have a decent grip on it even when wet. As a rule, long-handled models require more skill to control.
The Head -typically, beginners feel the most comfortable with medium-width shaving heads that are of the closed comb type and have a twist-to-open mechanism. Open comb heads are more aggressive.
The Aggression Level – it depends on two factors: the razor's design, the shaving angle, and the blades. The best angle to start shaving at is 30 degrees. Beginners should avoid the Feather blades as they are super sharp. All models reviewed above are only mildly aggressive. Open comb razors are for more experienced users. Use mild blades with your razor for maximum safety.
How much does a beginner's razor cost?
On average, you can expect to pay between $18 and $40, depending on the model. Stainless steel models are a bit more expensive.
What is the best safety razor for beginners?
In our humble opinion, it is The Merkur 34C. It's the most caring to sensitive skin.
How do you shave with a safety razor for beginners?
This is the subject of an entirely new post. For a start, you can get on YouTube and watch a video like this one.
Conclusion
All the above models are moderately aggressive and easy to handle. You can check out our posts about the best blades for beginners, too. They are way cheaper than cartridge razors.
Remember to always put your used-up blade in a special plastic box. When the box is full, you must seal it and put it in the recycle bin. Even when they can no longer shave, safety blades can deliver some horrendous cuts.
Should you have any questions or comments, please get in touch!