Find the best Merkur razor and unlock years of close, comfortable shaves without breaking the bank.
The good old safety razor is a thing of the past that has been making a slow, but steady return to the future. In the cartridge razor dominated shaving market, there still are companies that manufacture straight razors and safety razors.
One such company is DOVO, which started making shaving blades and accessories in 1906 under the name DOVO Stahlwaren. Today, it is known as DOVO Solingen, and is making their world-famous Merkur safety razor designs with great precision and care to the tiniest of details.
Merkur as one of the top safety razor brands also holds several top spots in our list of the best safety razors to buy today.
To begin with, let's just mention that this Merkur safety razor's name is pronounced /fu shu: r/, not like the English word "future". Futur comes in three modifications: 700 (a classic Mat Chrome version), 701 (chrome-plated body with a satin finish), and 702 (the most luxurious version with a gold-plated body). All of them are of the closed comb type
Now, if you know what you are doing with the Futur in your steady hand, you should get a clean and smooth shave without any nips or cuts that will last for at least eight hours. To facilitate the user, Futur has an adjustment dial inside the handle.
So, to adjust the blade gap you just turn the handle to the left or right. For a five-day beard or older, you should probably make the first shave with the blade on position six, which will give you a more aggressive shave. When you pass the razor along the contours of your face for a second time, set the blade on positions one or two for a milder and gentler shave. In general, if your beard has got some average coarseness, a position-four shave will do a great job for a start.
Unlike the traditional three-piece razors or twist-to-open razors, Futur opens at the top of the shaving head. You just grab the notch and pull it up to open the blade compartment. Then, you put the blade into position and press the top onto it until it locks in place. Speaking of blades, our research has revealed that Feather is one of the best manufacturers of safety razor blades in the world.
Caution: never try to adjust Futur's blade with wet hands, as you may cut yourself badly. Always adjust or change the blades of this safety razor with dry hands, and the razor itself must also be dry. This means that if you want to reposition the blade after the first or the second passing, you must dry your hands and the razor before doing so.
Also, when holding this Merkur safety razor, aim for the tiny indentation on the handle, or else it may slip out of your hand. The handle itself is pretty smooth and may get very slippery when wet. A thing of beauty as Futur is, it is not a safety razor for beginners. The product is 4.3 inches long and weighs 4.4 ounces which means that it requires a certain experience of the hand to control.
Many users have cautioned that the cutting head is rather wide and one has to be extra careful when passing it in delicate areas such as under the nose and around the lips. In terms of affordability, Futur is one of the rather expensive models on the market.
Pros:
Very easy to set up and adjust
Six positions of adjustment according to beard coarseness
When used with a top-class blade, Futur gives the best shaving experience
Easy to use
Cons:
Some users find it a bit bulky
The large shaving head should be maneuvered with caution around the lips and under the nose
The grip may get slippery when wet.
This is a traditional Merkur safety razor that gives a decent, close shave with minimum effort. Being in the middle price range, 23 C is the perfect model for those who've decided to migrate from a cartridge or an electric razor to a safety razor. You can go with the closed comb Merkur 23c (review) or the open comb 25c.
Merkur 23C has got a long handle for maximum comfort and control. The handle has got non-slip knurling along its length which adds extra safety during wet shaving. This safety razor is four inches long and usually comes in sample packs with spare blades and other shaving accessories, so look around for the best offer.
On the other hand, the weight of the razor is just 60 grams or 2.12 ounces, and some users report that the transition from a heavier shaving tool may take some time. This model's spacious blade gap allows a lather flow and makes cleaning much easier. Yet, some users complain that the gutter beneath the blade isn't wide enough and tends to clog rather easily. To wash the debris away, you'll have to unscrew the head a little bit.
23C's downside is that the blade is not adjustable, meaning that you screw it in place in only one position and that's it; you've got to make do with what you've got. Luckily, 23C has got a long-handle and a short-handle version, so you can choose whichever you feel more comfortable with. Also, when screwing or unscrewing the shaving head, you must make sure to never touch the bladed sides, or else you might get some pretty nasty cuts on your fingers.
Long-time 23 C users say that if you drop the razor in the sink while washing it, the metal in the corners may chip.
Interestingly, 23C has earned itself an excellent reputation among the female worshipers of double edge safety razors. One excited lady writes, for instance, that she could intuitively fit the blade into this three-piece razor without any instructions. She goes on to praise the close shave that 23C provides even in tricky areas such as behind the knee.
Furthermore, female users of 23C by Merkur do not need to apply extra pressure or take any weird positions in the bathroom to achieve the best results. Yet, she warns that one should shave with some extra care the first couple of times until they develop a good feel of the razor in their hand. Read more about the best women's razors here.
A distinct advantage of 23C is that you can invert the head and screw it backward. In this way, the safety bars will fully cover the razor's edge and you can safely put the tool in your backpack or suitcase. Whenever you check in on a flight, you must always put your Merkur safety razor in your suitcase and not in your hand luggage for safety reasons.
Read our full Merkur 23C review here, or our comparison of 23c vs 34c.
Pros:
Cheap and simple to assemble and use
Gives a closer shave than some other models
23C has got a lot of female fans
Shaving head can be inverted for safer travel
Longer handle with non-slip grip
The perfect model for transition from cartridge to safety razors
Cons:
Users say it clogs rather easily
Three-piece safety razors like this one require extra skills to assemble
Blade length can't be adjusted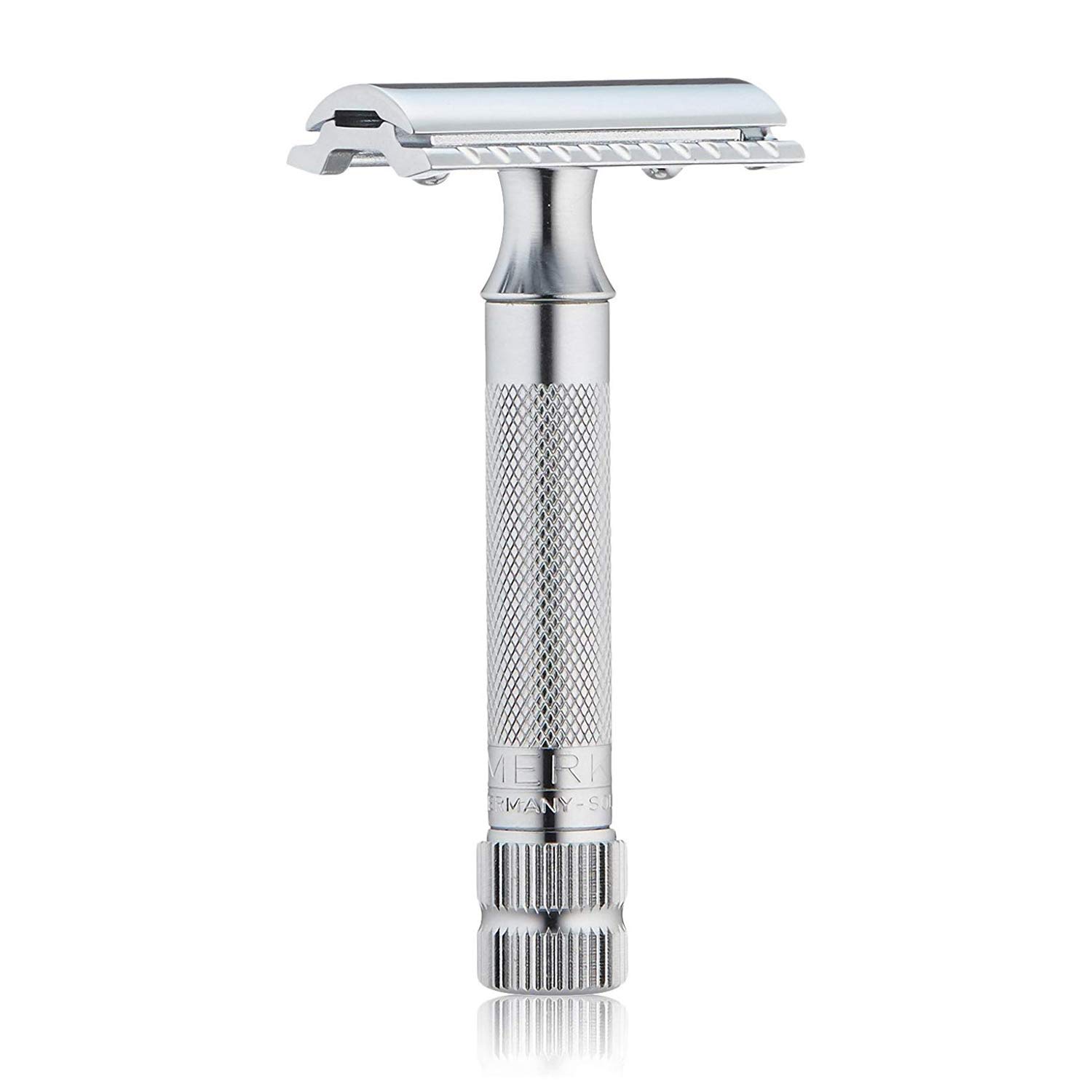 Merkur 34c is a two-piece shaving tool, as the base plate is attached to the handle. Having a simple, utilitarian design, this model is meant for everyday use year after year. What makes it so suitable for inexperienced users is its thick, comfortable, knurled grip. At the same time, its head is heavy enough to deliver an exceptionally close and comfortable shave.
This double edge Merkur safety razor weighs 2.72 oz which makes it a bit heavier than our previous contender. The razor is 3.28 inches long, and the handle comes in at 3.04 inches. With a diameter of 0.46 inches, 34C's handle feels way thicker than that of 23C. The handle's crisscross pattern of knurling provides a really good grip.
One user complains, however, that after seven or eight years of consistent use the knurling has become much shallower and the handle – more slippery when wet. Users have also noted that the handle knurling isn't very rough, to begin with. Over time, the razor may also start to feel much lighter in the hand, and the unscrewing mechanism may start to wiggle.
The Merkur 34C safety razor is made from Zamak, which is an alloy of zinc, aluminum, magnesium, and copper thats coffee pots are usually made of. The material is cheap to produce and it is used in virtually all safety razors cheaper than $100. The stainless-steel models are far pricier as a rule.
On the plus side, Merkur 34C is lighter and its handle is shorter than that of 23C, so one is hardly likely to apply excessive pressure while using it. Although not adjustable, Merkur's 34C safety razor provides the perfect combination of blade angle and alignment with a closed comb to avoid excess aggression.
As a result, it's going to glide over your face smoothly and without causing any irritation. Because of its unique design, 34C does not feel aggressive at all, and it is thus suitable for less experienced users. However, this model hasn't got any guides in the dome to align the blade.
For this reason, the blade may get crooked when you tighten the dome over it. Keep this in mind and use 34C with extra care the first few times. If you are new to wet shaving, your face is going to like Merkur 34C. As you gain more experience, you may eventually want to replace it with some heavier model like the Futur, or 23C that has a longer handle.
The Zamak material that 34C is made of is of high quality and the design is fair enough. Keep in mind that every user of a double-edged razor blade should have a blade disposal container to protects household members as well as sanitation workers.
Read our full Merkur 34C review here.
Pros:
Perfect for beginners
Easy to use
The blade's angle allows for a smooth and safe glide
Achieves excellent results with just two passes
Excellent value for the money
Cons:
The handle's knurling isn't deep enough
The design is rather basic
The razor blade is not adjustable
The head may become loose over time
Compared to 34C, this slant razor boasts a longer and heftier handle. This is probably the reason why it comes in at about four ounces in weight. Heavily-built as this double-edge shaving tool is, it gives the user exceptional control over the shaving head for a quick, smooth, and comfortable wet shave.
Slant bar razors twist the blade to optimise the cutting angle as well as stretching the blade tight in the head. Read more about slant razors here.
The barber pole knurling on the long handle allows for a better grip and creates a feeling of security in the user. Long-time users have observed that the overall performance of Merkur 39C is a bit more aggressive than that of 34C. Thus, this model is a bit less suitable for inexperienced users. When shaving with Merkur 39C, one must be careful not to apply any extra pressure on the head, or else they may be in for some serious cuts.
The overall design of Merkur 39C shows exceptional craftsmanship. Contrary to 34C, the blades of 39C get firmly secured in place once you tighten the handle. Despite its affordable price, 39C has its shortcomings, too. Users have reported, for instance, that the barber pole grip does not provide enough friction when wet.
Owing to its hefty design, Merkur 39C is rather difficult to maneuver around the lips, under the nose, and behind the lower part of the ear. Also, small-handed users tend to find this model's handle too long. Because of the specific angle of the blades, 39C isn't very suitable for too coarse beards.
One of the most serious issues with 39C that we could find is that over time the screw holding the razor's two pieces together begins to corrode. However, that is inevitable with chrome-plated Zamak and can be avoided to a degree by looking fter the razor and drying it after use as well as applying regular cleaning.
We like this safety razor's chrome finish, while the body is made of high quality nickel alloy and gives a feeling of exceptional reliability. The blade of Merkur 39C is not adjustable, but the model comes with one exceptionally-sharp spare blade. Being a two-piece model, 39C is easier to load than any 3-piece double-edge safety razor. And like we said above, the blade alignment that this model provides is just perfect.
Pros:
Hefty and reliable Merkur safety razor
Perfect blade alignment
Long Handle for better control
Feels nice on the face
Cons
The screw holding the head to the handle starts to corrode over time
Requires extra skill to maneuver around the lips and under the nose
Not suitable for too coarse beards
Merkur Safety Razors Buying Guide
In the next paragraphs, we shall try to answer some of the most relevant questions concerning the performance of Merkur razors.
Why Merkur Razors?
There are four pillars of Merkur's marketing strategy: that their safety razors are gentle on the skin and prevent skin irritations such as razor burn, pimples, and in-grown hairs; that there is no plastic in the safety razors' grips or blades; that they cost a fraction of the cartridge razors' price and, finally, that the shaving results one can achieve with them are better.
Wait a second! Didn't the manufacturers of cartridge razors take a great effort to convince mankind that their product is safer to use and gives a cleaner and faster shave than safety razors? Then, who's going to buy a Merkur razor?
The wet shaving community is certainly loyal to this historic brand and provide a means for it to thrive. However, a Merkur razor isn't just something for a safety razor enthusiast. Everyone can benefit from these razors and save their skin, wallets and the planet.
Which is Merkur's best Razor?
Futur is Merkur's champion, because it is the only Merkur safety razor with an adjustable blade. This is Futur's decisive advantage over all other models of this manufacturer.
What is the best safety razor on the market?
It appears as though Edwin Jagger DE8 is currently the market's leader, closely followed by Merkur Futur.
What is the most appropriate safety razor for a beginner?
Merkur 34C is one of the best double-edge safety razor for a beginner's face.
This Merkur razor is only mildly aggressive. This is why it is the favorite safety razor of those who've recently switched to wet shaving..
Conclusion
The Futur, 23C, 34C, and 39C are excellent Merkur razors. Of these the Merkur Futur allows for the widest variety of wet shaving modes, owing to its blade's six positions of adjustment. That said, the Futur is the choice of shaving Gurus who've already mastered the art of safety razor shaving to perfection.
23C is probably Merkur's most popular and common model. It is not very aggressive for a three-piece safety razor, and neither is it too heavy. Therefore, 23C is a good first choice of Merkur safety razor for users who are still learning the ropes. Interestingly, it has got a fairly large group of female fans, too.
Merkur 34C is another excellent shaving tool by Merkur. The handle may be a bit shorter than that of 23C and 39C, but this does not make this safety razor difficult to control. Just on the contrary, shaving with 34C is very easy and safe.
Finally, Merkur 39C, aka "The Sledgehammer", is probably the company's heaviest model. It is therefore hard to maneuver in some traditionally-difficult areas. Just like Futur, this model is for experienced users.
When you buy a Merkur double edge safety razor, you get a reliable companion for life!