In this Vikings Blade Chieftain review we'll examine the popular butterfly razor in detail and question if it's really better than a cheap Bailie.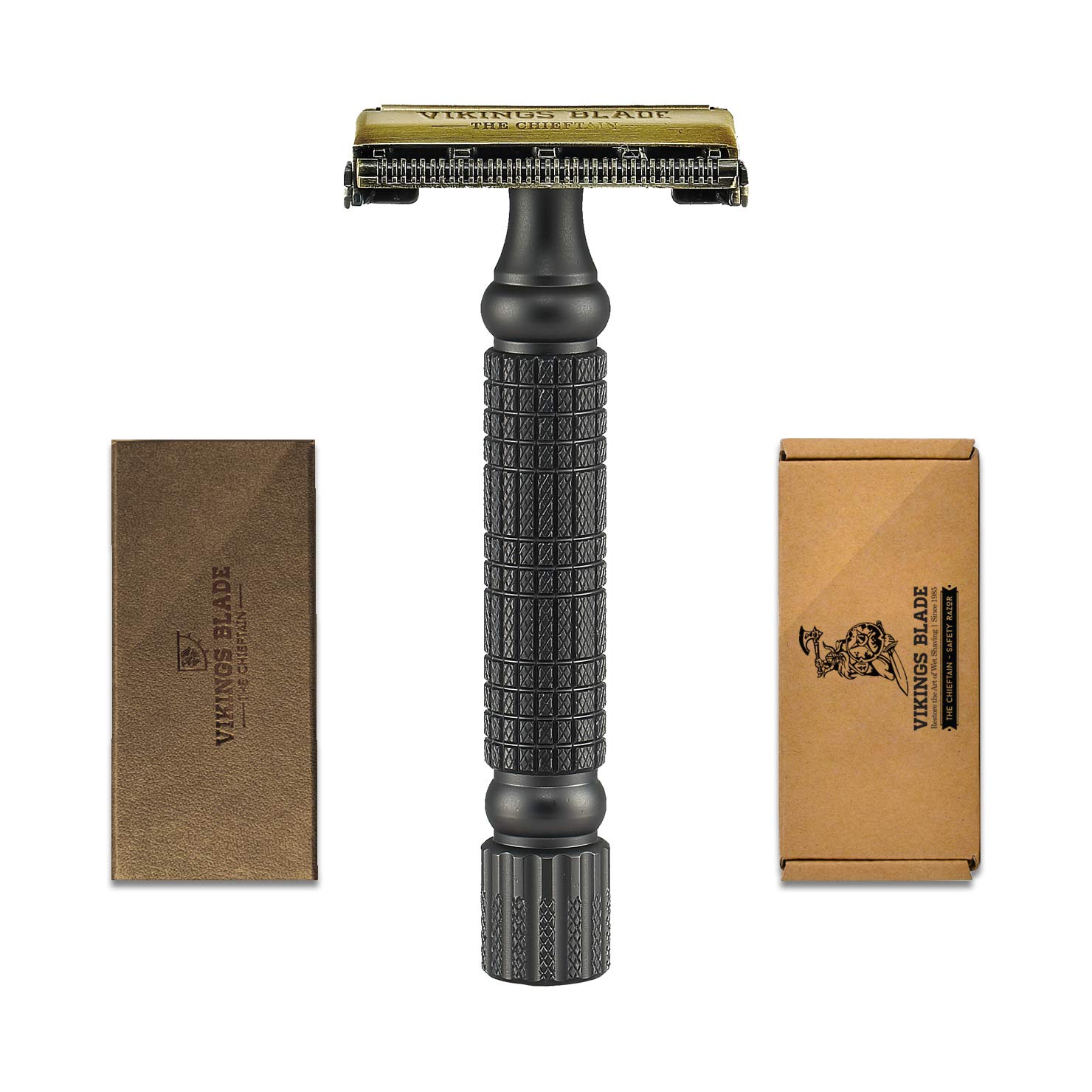 Vikings Blade is a family-run company that started making safety razors and shaving accessories in 1985. They have a few well-known models, but we think that their flagship is The Chieftain. First introduced in 2015, it is one of the most modern safety razors that you can currently buy.
Recently, it was rated the second best safety razor on Amazon.com. In this review, we shall look at some technical specifications and key features of the Chieftain, with a special focus on this safety razor's design and performance. On the whole, this is a great razor that you can fully trust!
Vikings Blade Chieftain Review
The Chieftain by Vikings Blade is a twist-to-open safety razor that provides a relatively aggressive shave. Therefore, it is a good choice as one's second or third safety razor. The shaving style of the Chieftain resembles the company's advertising strategy. It aims to loudly promote their razor in the not-so-wide niche of old-style shaving.
Back to the razor, it is 3.75 inches long and has got a hefty handle that increases this model's total weight to 2.89 ounces. Here it is worth mentioning that the Vikings Blade Chieftain comes in two versions – a chrome plated one, and another featuring stylish obsidian and rose gold cover.
Both versions feature an excellent balance point. While other safety razors rarely come with even one spare blade, the Chieftain arrives with five spare blades, an ergonomic travel case, and a small mirror. All these details create a feeling of trust between the razor and its user.
Design
This is a traditional, medium-length handle, closed comb safety razor. Compared to Vikings Blade's previous model, the Chieftain JR, this double edged razor feels heavier in the hand. The handle's knurling comes in the form of rectangular blocks. This specific design creates better friction between the user's hand and the shaving tool's handle, even when the latter is wet.
Despite having a pretty wide blade gap, the Vikings Blade Chieftain remains a mild razor, owing to its closed comb shaving head with a specific blade angle. The "Micro comb" bar protects the user's face from the sharp blade inside. At the same time it facilitates the head's gliding on the wet skin.
Material
Viking Blades have their own production facility in mainland China, which means that the Chieftain is manufactured out of durable materials under strict quality control at every production stage. As a result, this is one of the best-designed safety razors that you can buy on Amazon. All Vikings Blade models are made from a brass and bronze alloy of the highest quality, but the exact composition is a well-kept corporate secret.
Durability
The original Chieftain that is the subject of our review has got the so-called "butterfly opening" mechanism. You just twist the handle and the shaving head opens up in the middle like a butterfly's wings. Some fans of this model have shared that over the years the twist-to-open mechanism may get a bit squeaky. You can still rest assured it'll never fail you. The mechanism's durability is also subject to rigid quality control.
Finally, on some websites, you can find information that it takes just five seconds to change the Chieftain's blade. We aren't so sure about that. Merkur Futur, for instance, has that pull-up blade change system that many find easier to use. Still, Vikings Blade Chieftain is the best twist-to-open razor that you can buy on Amazon.
Performance
The manufacturer has advertised the Chieftain as a moderately aggressive safety razor. This means that its shaving performance is somewhere between that of Merkur 39C and 34C. Chieftain users have reported that while shaving they can definitely feel the contact between the blade and their skin. If loaded with a Feather blade, the Chieftain will erase 95% of a 3-day beard with a single pass. This is what we call an exceptionally close shave!
However, if you have rather sensitive skin, please use the original Viking blades to avoid razor burn and irritation. Alternatively, you can use a Gillette Silver Blue for your first pass. Vikings Blade also make some extra-mild safety razors.
They also give a close shave, and a smooth one, but after multiple passes under different angles. Most experienced double edge shavers like the Chieftain precisely because they can adjust its aggression by inserting different blades.
Many first-time safety razor users have been disappointed by their experience, as the Chieftain has given them plenty of nicks and cuts to take care of. To save you from tears, we recommend that you make your first steps in the world of wet shaving with a more tamed model such as the Chieftain JR, or Futur 34C.
Price and Handling
With the Chieftain, Vikings Blade has aimed at the medium price segment under $30. Owing to its great weight distribution and balance point located at ¾ of the handle's length, the Chieftain is remarkably easy to handle. When shaving, you just let the weight of the razor do the cutting, while you can focus entirely on following the contours of your face.
What further facilitates the handling of the blade is the razor's overall size. At 3.75 inches long, the handle fits all hand sizes without feeling too heavy or bulky. Also, the original Chieftain's shaving head isn't as wide as that of Vikings Blade Chieftain 5 BC, which makes maneuvering even easier.
The Chieftain vs Baili BD179 Controversy
Because the Chieftain is the most popular twist-to-open model on Amazon, there are plenty of cheap knockoffs that you should avoid. However, it appears as though Baili's BD179 safety razor is the Chieftain's arch enemy. You can read more about this trade feud here.
For the purpose of this review, we just want to emphasize that these are two completely different safety razors. True, both are closed comb models, their handles look very similar, and both are of the so-called "butterfly opening" type. However, you can see on Amazon that Baili BD179 weighs 2.5 ounces, compared to the Chieftain's weight of 2.89 oz.
At 3.75 inches the original Chieftain is a bit longer than BD179, which measures 3.70 inches in length. Most importantly, Baili BD179 provides a far milder shave than its arch-rival. So much so, that it's suitable for female users.
Accessories
The travel case that accommodates the Chieftain is made of the finest quality leather. On the inside, you can find some safety instructions and precious wet shaving tips. The case's leather-and-suede body is really warm and nice to touch, and there's a small mirror fixed on the inner side of the cover.
The case of BD179 also has got a mirror on the inner side, but it's smaller and not so well-designed. Some Amazon subscribers have commented that the case is pretty bulky. Some videos that you can easily find on YouTube show that the case is actually standard in size and fits well in a men's handbag.
Animal lovers may frown at Vikings Blade because their razor case is made of 100% genuine leather and it thus isn't eco-friendly. However, an old-style shaving masterpiece like the Chieftain fits quite well in an old-style case like this one.
The five spare blades that this double edge razor comes with give an exceptionally smooth and mild shave. Each blade is guaranteed to last at least four shaves. In terms of aggressiveness, they rank below the super-sharp Feather, but on a par with the Shark Super Chrome ones. These blades will help you get a good initial feel of the razor without worrying about accidental nips and cuts.
Final Verdict
Pros:
The Chieftain is perfectly balanced in terms of length and weight
Shaving aggression can be adjusted with different blades
Comes with 5 free blades and a travel case with a mirror inside
Delivers an excellent shave for your money
Cons:
First-time wet shavers may find it too aggressive
The twist-to-open mechanism gets squeaky over time
This is a closed comb model, so shaving head may clog from time to time
The overall design and performance of Vikings Blade the Chieftain put this safety razor among the best safety razors in its price range. Although not adjustable, this razor delivers a safe, quick, and smooth shave every time, year after year. The perfect packaging of this superior product will surely make you feel impatient and agitated.
The comfort that one can experience while shaving with the Chieftain safety razor lends itself mostly to the razor's perfect balance between weight and length of the handle. We also liked the fact that it comes with a full set of five spare blades, given that many other manufacturers seldom put in even a single blade.
Vikings Blade The Chieftain may not be the best safety razor for your initiation to wet shaving, but it will surely give you an incredibly close and smooth shave very time!